That magical time of the year is upon us once again, Christmas. Therefore, we have some must try treats that will definitely have you feeling festive during the silly season. This years collection consists of your traditional favourites associated with Christmas as well as some surprises that will have you wanting seconds.
From muffins to mince pies we have a mixture of both sweet and savoury snacks for all to enjoy. We've also just launched a new festive sourdough loaf made with a 33 year old live liquid starter.
Check out this years scrumptious selection:
Orange Chocolate Muffin (New)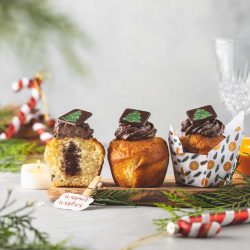 Light and airy orange flavoured muffin with milk chocolate chunks throughout. Filled with a velvety milk chocolate sauce and topped with a rich whipped chocolate rosette. Afterwards, this is then decorated with a dark chocolate and a Christmas tree plaque.
Brandy Mince Puff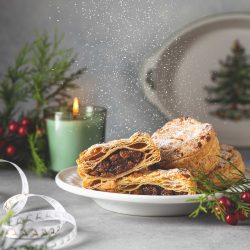 A buttery puff pastry encases this festive filling of vine fruits, sultanas, currants and mixed spice.
Sweet Mince Pie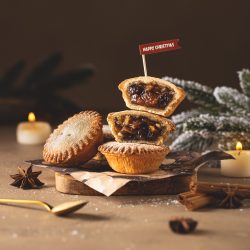 A delicious rich fruit mix including juicy sultanas in a sumptuous short crust pastry.
Salted Caramel Muffin (New)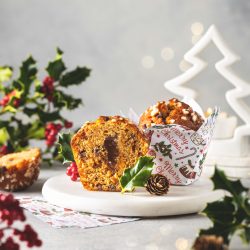 A generous muffin made of a light & airy salted caramel crumb with an abundance of milk chocolate chunks. Filled with a luscious, smooth salted caramel sauce and topped with white sugar pearls.  All wrapped up in a classic brown tulip shaped muffin paper.
Apple & Vanilla Strudel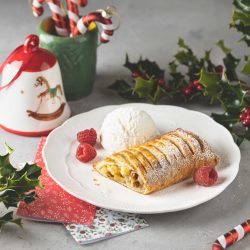 A traditional treat of apples, cinnamon and juicy raisins, layered with creamy vanilla custard, rolled up in a light flaky strudel dough.
Cranberry & Pumpkin Seed Loaf (New)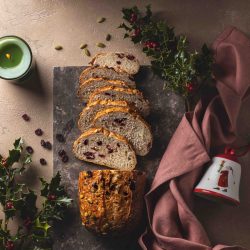 This cranberry & pumpkin loaf is made with our original 33 year old sourdough starter, sweetened dried cranberry pieces and crisp pumpkin seeds. The dough is slowly fermented resulting in an open crumb with a mild sourdough flavour incased in our signature crust.
As these must try treats are only available for a limited time make sure to enjoy them while they last. We love to hear from our customers. Therefore, let us know what you think about our Christmas range by getting in touch with us on Facebook, Instagram or Twitter. We look forward to hearing from you.
If you're a business and want to learn more about these products or find out how Cuisine de France can help your business, click here.